According to UNICEF, 2 billion people across the world still do not have basic sanitation facilities such as toilets or latrines. Of these, 673 million defecate in the open. Open defecation is a problem because it allows for high-potential of bacteria being transferred through feces leading to large-scale health problems. Moreover, open defecation also inflicts safety concerns on women, causes distress to the elderly and disabled and poses environmental risks.*
Despite several parts of India being declared as open defecation free, hygienic sanitation continues to be a problem in the country.  A study conducted in 2018 showed that residents of between 30-70% of urban slums in India in fact did not have access to safe and convenient toilets**
Recognizing the problems posed by open defecation as well as community toilets that have their own set of disadvantages; Shelter Associates (SA), a Pune based NGO providing safe sanitation and affordable housing to the urban poor focuses on facilitating individual household toilets through its data driven, replicable, scalable and multi-stakeholder inclusive 'One Home One Toilet' (OHOT) model.
The Local Project Challenge, a collaboration between academic and social organizations, has honored Shelter Associate's 'One Home One Toilet' initiative with the LPC Honour Award 2020 at the U.N.-Habitat World Urban Forum 10 in Abu Dhabi.
The World Urban Forum, organized by UN-Habitat, "is the foremost international gathering for exchanging views and experiences on sustainable urbanization. The inclusive nature of the Forum, combined with high-level participation, makes it a unique United Nations conference and the premier international gathering on urban issues".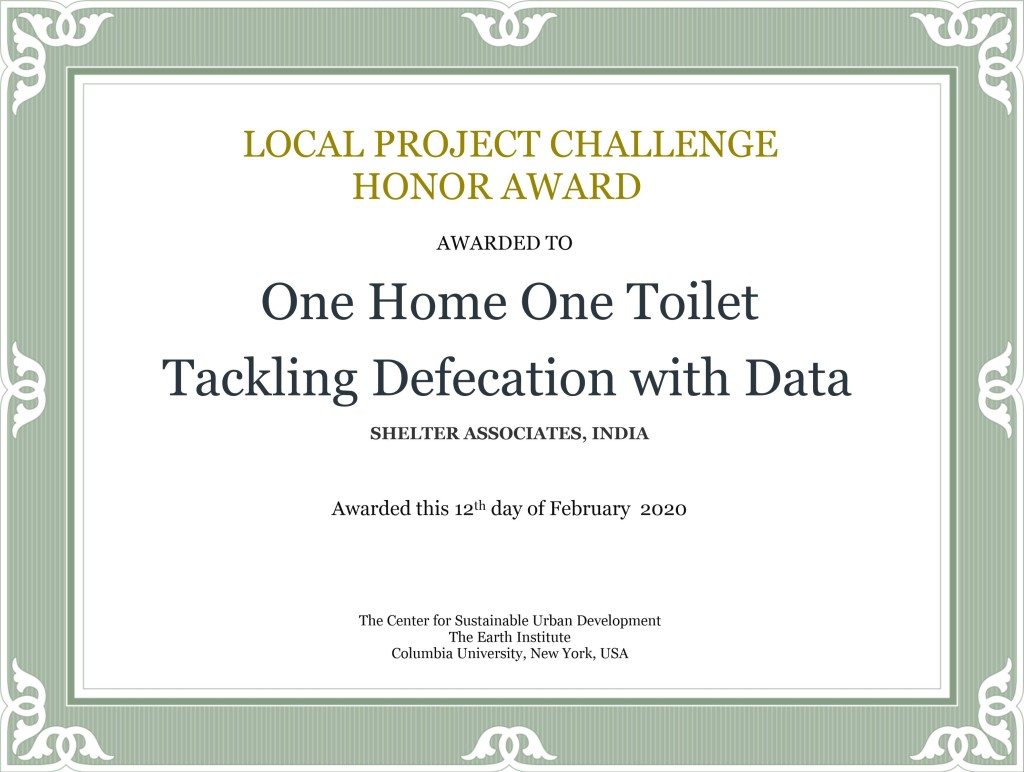 The project was presented for the Civil Society category, announced as part of the "Accelerating the SDGs through the Local Project Challenge" seminar. The Local Project Challenge is a partnership between the Center for Sustainable Urban Development at The Earth Institute, Columbia University and the Faculty of Architecture, Federal University, Rio de Janeiro, and builds on the Global Studio and People Building Better Cities programs.
Coming straight from the director of the Local Project Challenge, Dr. Anna Rubbo says "Congratulations on your Local Project Challenge Honor Award. We hope the award helps support your excellent work"
An international panel of judges reviewed the 110 organisations under the categories of Civil Society, Education and Professional and honored Shelter Associates under the Civil Society category. The list of awardees can be viewed here: https://localprojectchallenge.org/awards/
The "One Home One Toilet" project fits in perfectly with the UN's Sustainable Development Goal 6 – "Ensure access to water and sanitation for all". OHOT facilitates toilets that are not only well-designed but have also proven to be long-term solutions to the problem of open defecation, thus actively contributing to SDG Goal6.
 The Local Project Challenge featuring 'One Home One Toilet' model is available here:
https://localprojectchallenge.org/one-home-one-toilet-tacking-defecation-with-data/
References:
* https://data.unicef.org/topic/water-and-sanitation/sanitation/
** https://www.fsg.org/publications-and-tools