FACILITATING HOME TOILETS IN SLUM COMMUNITIES
Swachh Bharat Mission has made great strides in making many cities Open Defecation Free but increasing urbanization and burgeoning slums continue to add stress on sanitation services. Malfunctioning community toilets, missing drainage facilities, cultural and societal standards, and landlessness force slum dwellers to practice open defecation or rely on unhygienic and unsafe community toilets. SA's 3 pronged OHOT model uses spatial data to identify critical gaps in sanitation services. It engages ULBs to lay/ repair drainage lines and mobilizes communities to adopt good hygiene and sanitation practices. The toilets are constructed jointly with the families, while SA provides the raw material, the families contribute towards the cost of construction.
What sets apart our OHOT model is the inclusion of community members right from data collection to monitoring. The families themselves contribute to the construction of the toilet and which gives them the freedom to customize their toilets and construct them at their own pace, thus ensuring the sustainability of this initiative. SA has facilitated over 26,000+ individual toilets, impacting the health and living conditions of over 1.5 lakh slum dwellers across 7 cities in Maharashtra. The OHOT especially understands and caters to the most vulnerable individuals like women, menstruating girls, the elderly, and the disabled, giving them a dignified and safe option. The OHOT has been listed as one of the best practices in sanitation by HUDCO while it has also received recognition from UN-Habitat, NASSCOM, and FICCI.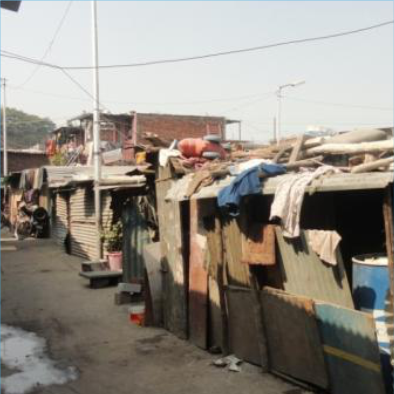 *Impact Assessment study by Gokhale Institute of Politics and Economics
MONITORING SLUM SANITATION
The OHOT program in slum settlements is monitored through a comprehensible spatial interpretation. In the below map, we see a significant impact in Balaji Nagar of Pimpri-Chinchwad which demonstrated a 71% rise in the household toilets, and a reduction in toilet seat to family ratio from 1:23 to 1:6
Shelter Associates
SA was founded by architects in 1994 with a passion to ensure equitable access to essential services for the urban poor. SA follows a data-driven, multistakeholder approach to designing and implementing community-centric solutions around sanitation and social housing issues. Know More
Stay Connected
Get regular update through our monthly newsletter
   +91 99224 48390    
   info@shelter-associates.org
    'Kanha', Plot. no. 340, lane no. 18, Mahatma Society, Kothrud, Pune - 411038